Belkyra Procedure in Richmond Hill. What are the Benefits of Belkyra?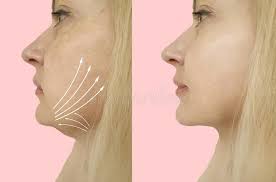 Double chins are extra levels of fat in the chin that do more than just ruin your passport photographs or selfies. They can also be a source of low self-esteem and distress.
Even if you work hard to maintain a healthy body weight through dieting or exercise, this stubborn pocket of fat, which is also known as submental fat, is often inherited or it may be gotten because of the posture or age. Either way it can make you look overweight.
Submental fat is especially aggravating since it does not respond as well to toning activities like fat in other parts of the body. Excess fat behind your chin might make you look heavier and older than you are. When a double chin continues despite your commitment to a healthy lifestyle or recent weight loss, it can be upsetting.
This excess fat around your chin and neck can make your jawline appear less defined, as well as add years to your appearance. If you've been covering your double chin with scarves or turtlenecks for years, you now have a non-surgical solution to your worries, and it has the advantage of being an entirely safe and effective option to get rid of it for double chin than other more invasive solutions like surgery.
This solution is called Belkyra and its popularity has steadily been growing over the years. BELKYRA is made with deoxycholic acid, a naturally occurring chemical that the body used to break down fats. BELKYRA breaks down fat cells when it is injected into submental fat. Through its usual cleansing process, the body slowly destroys these cells. These fat cells do not regrow.
It is a fast procedure that takes about twenty to thirty minutes. Most patients see improvements in their look within two to four treatment sessions, with each session spaced at least one month apart.
BELKYRA is a remarkable option when it comes to double chins. It is less expensive and intrusive than surgical liposuction, and it does not leave scars.
SIGNS THAT BELKYRA IS JUST RIGHT FOR YOU:
Here are a few indicators that it could be the correct treatment for you to correct your double chin dilemma:
The Double chin is resistant to exercise and diet: Exercise and diet are ineffective in reducing your double chin. Do you eat well, exercise on a regular basis, and maintain good overall health yet still have a double chin? Then Belkyra might be the correct choice for you. If you've done everything to get rid of submental fat but can't seem to get rid of it, talk to our doctor about this safe procedure. 
You have a stable a healthy weight: Many patients mistakenly believe that Belkyra is a weight-loss supplement. This therapy, on the other hand, is most beneficial for patients who are at or near their optimal weight and wish to get rid of the excess fat beneath their chin.
You don't want to go under the knife: If you don't want to go through an intrusive treatment with a long recovery time but want to get rid of your double chin, Belkyra is a good option. This procedure provides good results without the expensive prices, long recovery times, or hazards associated with cosmetic surgery.
Your skin appears to be in good shape: This could be a helpful treatment for you if you have mild to severe skin laxity. Patients with extreme laxity or sagging skin under their chin, on the other hand, should talk to our doctor about alternate choices for further advice.
ARE THERE ANY SIDE EFFECTS?
With this non-invasive treatment, there is virtually no downtime. Although you may suffer some transient and moderate swelling and bruising following the treatment, most patients are able to resume their routine activities right afterwards. Within a few days, this should be resolved on its own.
BENEFITS OF BELKYRA 
As previously said, there are several fat-loss alternatives available, but BELKYRA stands out positively. Treatment such as liposuction is good for the available in addition to BELKYRA. While each of these surgeries has its own set of advantages, each patient's scenario is different. It is critical to conduct research and consult with our doctor to determine what would work best for you.
Belkyra is less expensive and less intrusive than surgical liposuction, and it does not leave scars. It also offers a shorter treatment period and a lower cost than other options. BELKYRA is well recommended for people with full double chill or just a little double chin. Here are a few other benefits of BELKYRA:
BELKYRA IS A NATURAL PRODUCT: BELKYRA targets chin fat by utilizing your body's natural chemistry. Deoxycholic acid, a chemical found in bile and produced naturally by our systems for fat digestion and absorption, is used in the therapy. Deoxycholic acid breaks down fat cells when BELKYRA is injected directly into the chin fat deposit; the liberated fat is progressively absorbed over the following weeks.
IT IS PAINLESS AND NON-INVASIVE. Anyone considering cosmetic aesthetic operations is aware that pain is a major consideration. BELKYRA injections are non-invasive, causing only stinging, itching, and redness at the injection site and time. The sting is relieved by using ice.
BELKYRA WORKS WELL WITH OTHER TREATMENTS: If you've explored or had other neck-improvement procedures like skin tightening, treatment of dynamic lines, neck bands with BOTOX Cosmetic, or jaw and chin contouring with dermal fillers, BELKYRA is the ideal follow-up therapy as it can be combined with other treatment procedures to have the best result.
LONG LASTING RESULTS: The finest thing about BELKYRA is that fat cells do not recover once they have been killed by the injections. That's correct, they're no longer with us. All you'll be left with after the procedure is a thinner, more beautiful jawline.
SIDE EFFECTS ARE MANAGEABLE: The majority of BELKYRA users evaluate the side effects as minor, so you'll be able to continue about your daily routine while on therapy. Inflammation, swelling, redness, nodules, itching, and numbness are among symptoms that some people encounter. Any negative effects, on the other hand, are temporary, lasting just two to four weeks after the injection.
IT PROVIDES LONG-TERM EFFECTS. One of the finest things about BELKYRA is that fat cells do not recover once they have been killed by the injections. That's correct, they're no longer with us. All you'll be left with after the procedure is a thinner, more beautiful jawline.
Pricing
Belkyra procedure is done in our Richmond Hill clinic located at 9140 Leslie St #301, Richmond Hill. The price of Belkyra is between $800-$1600, depending on size and number of sessions. To book an appointment please call 647-360-6839 or visit https://skinrejuvenation.ca/book-a-free-consultation/