Bellafill Procedure (For Smile Lines & Acne Scars) in Richmond Hill. What are the Benefits of Bellafill?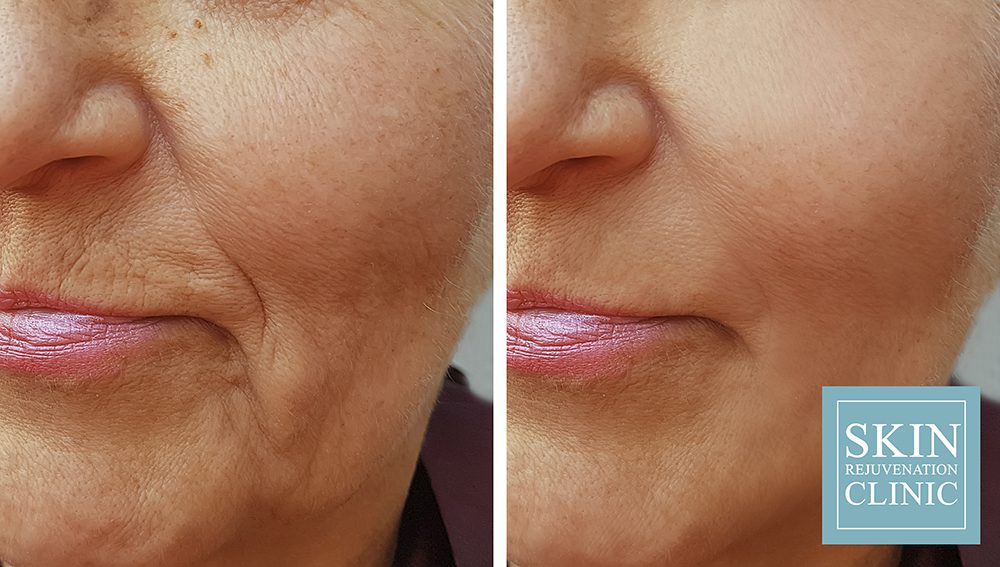 As time goes by, we age along with it. Even the shiniest of faces and the most youthful skin start to get fine lines and perhaps a wrinkle or two may start to show at the corners of the lips, etc. With modern innovative methods in the field of cosmetic therapy and beauty treatment procedures, we get the opportunity and indeed the important choice of correcting blemishes and fixing skin related issues that are cause of insecurity or low self esteem.
A huge number of methods of beauty treatments are available for consideration. Bellafill is one of them. This treatment is a dermal filler for permanent implantation into the skin. It is used for the correction of smile lines, deep nasolabial folds, acne scars, wrinkles and also for nonsurgical nose and cheek augmentation treatments.
Bellafill is a combination of microsphere enhanced bovine collagen with the local anesthetic lidocaine. The microspheres are produced from a synthetic implant material called polymethylmethacrylate which are very small in size and can barely be seen by the bare human eyes.
So, How Does Bellafill Work?
Bellafill contains tiny polymethylmethacrylate microspheres which are suspended within a base of smooth collagen gel. As soon as it's injected into the body the collagen gel starts reducing the visibility of smile lines or wrinkles.
Bellafill is a non-resorbable dermal filler, unlike other numerous dermal fillers that are absorbed and require re-injection at different intervals.
Though Bellafill is safe for use by women and men, anyone considering it is encouraged to have a skin test to determine if its safe for use for the patient involved in the treatment
Bellafill is made up of a bovine collagen solution and polymethyl methacrylate, a thermoplastic  synthetic substance that has been refined into tiny balls known as microspheres.
Each injection shot of Bellafill contains a minute-sized amount of of lidocaine. This acts as an anesthetic to make the patient more comfortable during the procedure.
The collagen in Bellafill is absorbed by your body, but the microspheres remain in the original place. After the collagen has been absorbed by your body and replaced with your own, it works to give ongoing support.
The Bellafill Treatment Procedure
Our doctor in charge of the treatment will need your comprehensive medical history, including information on any allergies or medical issues you may have, before performing the Bellafill surgery so no health complications would affect you.
As stated before, you will also be subjected to a skin test to determine whether you are allergic to bovine collagen. You will be given a little amount of highly purified collagen gel to inject into your forearm, and you will be kept in the office to monitor your reaction.
It is generally recommended that this test be done four weeks before to Bellafill treatment, but some clinicians perform it the day before or even on the day of treatment.
When you're ready, your doctor may mark the region or locations that will be treated with Bellafill. After that, the filler will be injected into your skin, giving you immediate results that are visible. A small amount of lidocaine is included in each syringe to help with pain relief after injection for the comfort of the patient involved. If you're worried about pain, a numbing lotion can be administered to the area before the injection. 
The length of your operation is determined by the region that needs to be treated. This could take anywhere between ten and fifty minutes. Multiple regions can be treated in a single visit. After six weeks, your doctor may suggest a follow-up therapy for the greatest outcome that is desired.
Risk and Side Effects
Every procedure has its risk and side effects involved with the process. Bellafill isn't an exception although the risk is minimal compared to other beauty treatments or more invasive procedures like surgery. Common side effects from Bellafill include:
itching

Discoloration 

Skin redness

Lumps

Infection 

Tenderness of area involved 
Most of the above stated side effects resolve themselves within the first week and are not a major cause of health concern
What are the Benefits of Bellafill
IT FIXES ACNE SCARS: Bellafill is the first and only dermal filler that has been clinically proven to reduce acne scarring and rejuvenate the skin. Despite the fact that fillers have been around for a long time, none of them compare to Bellafill's exquisite gel in terms of strength. Even extremely deep and severe acne scars that have been present for years can be treated with this treatment. If you've tried and failed to find a solution for your scars in the past, this gel could be the answer you've been looking for to give you back a youthful tighter skin removed of blemishes
LONG LASTING RESULTS: Most dermal fillers and injectables available in the world need to be reapplied on a frequent basis to maintain their effectiveness. Patients may require maintenance treatments every three to six months, depending on the product they chose. Many people like this routine, but others prefer a more permanent solution. Bellafill is the answer. While treating smile lines, its unique mixture can last up to five years, and when treating acne scars, it can last up to one year. This is the only filler available that has such long-lasting effects.
NO DOWNTIME: Bellafill treatment has the advantage of having no downtime after your procedure. You can begin normal physical activities such as exercising and sports. Other invasive and non-invasive procedures have an extended recovery time. This makes Bellafill a popular choice, as it's designed to fit around your lifestyle.
IT SMOOTHES FINE LINES: Smile lines can be divided into two types; those that occur just when you smile and those that appear even when your face is not expressive. If you have the second type of smile line, you will usually have obvious grin lines when you smile. This may be an issue for certain people when it comes to smiling confidently or even applying makeup. To revitalize the appearance of the face, this dermal filler can address indentations and wrinkles around the nose and mouth. In fact, many patients are astounded with how much younger they look after this procedure. Whether you're smiling or not, the continual covering of this procedure can shave years off your overall appearance.
THE RESULTS ARE QUICK: We can all agree the most important part of the procedure is the result.  The results from Bellafill have the advantage of being extremely quick to be visible. It is tough waiting anxiously for results after a treatment. Many patients notice obvious benefits the same day as their initial treatment, sometimes even hours later or before they leave our clinic. The plumping effect of the injectable gel, which rapidly provides more volume under the skin to fill in wrinkles and acne scarring, can be credited for the speed with which these benefits appear. As more collagen is formed naturally within the skin, the treatment's outcomes will continue to increase.
NATURAL RESULTS: Bellafill gives natural results in a way some other procedures don't. The key to getting natural results is to employ an aesthetic treatment that uses your body's natural qualities to increase volume in your skin's subdermal layers. Our skin is teeming with natural collagen during our youth, which keeps our skin elastic and voluminous. However, after the mid-twenties, the amount of collagen in the skin begins to decline, fine lines, skin laxity and wrinkles become apparent signs of aging.
COLLAGEN PRODUCTION: Our bodies naturally create collagen; however it slows down as we age (allowing wrinkles to occur). Because collagen is the main ingredient in Bellafill, the chances of an allergic reaction are greatly reduced. While an allergy test is usually performed before treatment, most individuals have a low risk of adverse effects. Another advantage of collagen is that it can help you improve your skin by complementing what your body produces naturally. This gives you a smoother, more supple face that other choices can't match.
Pricing
The pricing for Bellafill at our Skin Rejuvenation Clinic is $1,050 per syringe. To book a free consultation with our doctor, please call 647-360-6839 or visit https://skinrejuvenation.ca/book-a-free-consultation/
Our Bellafill procedure is done at our Richmond Hill clinic located at 9140 Leslie St #301, Richmond Hill.