Bio-Filler Facelift in Richmond Hill Benefits of Bio-Filler Facelift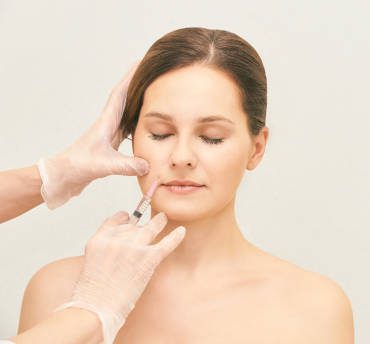 In dermatology, the Plasma Bio-Filler Facelift is a new cosmetic procedure. The dermal filler gel is easy to get and is autologous. It's great for reducing fine rhytids, as well as volumizing, contouring, and rejuvenating the face, neck, and hands. Patients prefer plasma bio-filler to high-density hyaluronic acid fillers because of its consistency and autologous origin.
This procedure is one of the most exciting latest developments in the field of aesthetic rejuvenation.
Fillers can be prepared and injected for wrinkle augmentation during the same appointment, with the whole procedure taking about 90 mins to be complete. The Bio-filler Gel can be used to augment or contour wrinkles and fine lines as well as to define different areas of the face. Bio-Filler is manufactured by isolating and processing plasma from a patient's blood, then injecting it to add more mass to it.
Bio-Filler has the same color and form as autologous fat. It is processed in front of the patient to create the perfect viscosity required for any area being worked on. 
Bio-Filler with Plasma Gel is suitable for both men and women, of a variety of ages, with minimal side effects or risks involved.
It is crucial to utilize material that can replenish lost vitality on sections of skin that have lost volume.
Victories are determined by a variety of elements, including the skin's strength, the skill of the medical services provider, the type of filler used, and so on.
On areas of skin lacking in volume, it is necessary to use a material that can replace lost vitality.
For enthusiasts of natural remedies, this is a first. Bio-Filler is a non-hyaluronic acid filler that can be used instead of hyaluronic acid fillers. It is vital to employ a material that can restore lost volume in locations where there is a lack of volume. In other words, deeper creases or wrinkles require the application of a filler ingredient. A hyaluronic acid filler is a good option. If you don't want to be injected with foreign ingredients and prefer natural alternatives, but still want to be wrinkle-free, Bio-Filler is the perfect option.
The benefits are nearly instantaneous, and your face will be healthy, glowing, and appealing once more. Bio-Filler has a stimulating impact as well. The presence of female hormones accelerates the formation of your connective tissues. 
The procedure is always paired with traditional Dracula therapy, resulting in a two-in-one treatment that rejuvenates the skin and fills in hollow places.
How does it work?
What is the mechanism behind it? Bio-filler with Plasma Gel is referred to as an "autologous aesthetic technique" since the substance used is made up of the patient's cells or tissue. In this situation, the gel is combined with your blood before being injected into the problem area(s) to re-energize and lift areas of your face and neck that have lost volume, as well as to target very fine lines and wrinkles. Hands can also benefit from the treatment.
The Plasma Gel has the same color and consistency as real fat, but when injected, it becomes considerably softer. The stimulation of stem cells and growth factors that make collagen, the body's natural protein for keeping skintight, fresh, and youthful, is an important advantage of this treatment. This means that after the injections, your skin will continue to reproduce this protein on its own for several months. For the greatest effects, all treatments are performed by a qualified, experienced practitioner in specific areas.
How long does the treatment take to work?
After the treatment, you will notice a clear improvement, and the consequences of the collagen formation will be evident in two weeks. The gel is naturally and completely absorbed into the treated area after two months.
What is the downtime?
There is no downtime involved with this procedure.
Does it hurt?
A few tiny injections cause some slight discomfort, but the procedure is mostly painless and non-invasive. Because the procedure is autologous, there is virtually no risk of side effects.
How many treatments are needed?
It is generally recommended to start with a three-session course with a four-week break. If paired with PRP serum injections, the effects remain for around two years after the third session.
Benefits of Bio-Fillers
Natural alternative: As opposed to the contrary notion, Bio-Fillers can be a great alternative to treat several issues apart from the aging signs. 
Bio-Fillers Trigger your body's collagen development: Collagen is the most widely found form of protein that is found in skin and tissue. It is the main reason behind the elasticity and strength of the skin. Wrinkles are caused by a decrease in collagen levels, which further accelerates the aging process. The bio dermal fillers stimulate the body's natural collagen production so that the youthful appearance lasts as long as possible.
It organizes, forms, and shapes the face: Due to a lack of collagen, a person's skin loses its vibrancy and radiance as they get older. The bio dermal filter can be used to cure sagging skin and wrinkles that have become more visible. With a facial, a bio dermal filter makes you look younger than your age.
Long-Lasting Results: The results of bio dermal fillers are essentially very long-lasting. They last for about a period of two years, which is much more as compared to the other filler types.

Longevity: Bio dermal fillers, unlike conventional fillers, have a rather long-lasting impact. In comparison to other fillers, bio dermal fillers have a higher retention capability. The bio dermal fillers last for twenty-four months, whilst the other fillers endure for six to twelve months.
Relatively Inexpensive: Bio-Fillers are quite affordable when compared to the other treatments on the market that target the same problems. The reason for this is that Bio-Dermal fillers are created from the patients' own blood, which makes them cost-effective.
It is Universal: Apart from minimizing the symptoms of aging, bio-fillers can help you get rid of a variety of skin disorders. It claims to be a one-of-a-kind solution for all your skin's demands.
Fast-paced recuperation: Bio-fillers operate on the structure and surface of your skin to improve its appearance. Not only can the good effects of this filler type stay longer, but there is no such thing as a painful recovery procedure when it comes to this procedure. A welcome benefit of bio-fillers.
Pricing
Bio-Filler treatments are done at our Richmond Hill clinic located at 9140 Leslie St #301, Richmond Hill. The price for Bio-Filler treatment is $800 per session. To book an appointment for this procedure please call 647-360-6839 or book online at: https://skinrejuvenation.ca/book-a-free-consultation/